Ah….. It is 8:30 p.m. and I'm finally sitting down for the first time today. I'm wrapped in a blanket, with a cup of lemon tea at my side, as I sit on the dock and watch the sun begin to set behind a beautiful mass of purple-grey clouds.  The waves are lazily lapping against the dock and along the shoreline and an occasional boat slows down as it enters the marina for the night. The boys have kayaked into the marina for their nightly garbage disposal, so I'm alone to enjoy this moment.
As I reflect on the day, I'm pleased with the number of activities that we were able to take part in. Even though the day started with a downpour, I was still able to make the long trek to the marina and back, picking up some dew worms.  Upon my return, my son and I decided to try our luck at fishing off the dock.
As the day went on, the skies cleared up and the lake became picture perfect for wakeboarding and tubing. What a thrill!  I had forgotten how much I enjoy that sport.
Then back to the camp for the evening meal preparation and clean-up.
Now, as I sit on the dock, I hear a loon in the distance and a reply from its mate. The skies are turning a deeper purple and I think we're in for another downpour.  How thankful I am for the afternoon sunshine!
The call of the loon reminds me of the movie, "On Golden Pond".  Katharine Hepburn is my all time favourite actress. I love her combination of strength and femininity all in one. I can recall sitting in the theatre in 1981 and laughing and crying throughout the movie.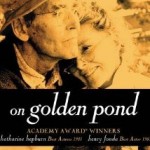 It's interesting how sounds can trigger memories of all sorts.
What are the sounds that will trigger positive memories for your students this year?