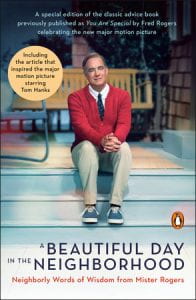 Some days you just need a little Mr. Rogers to put things in perspective and today was one of those days. This past Christmas I received a copy of the "A Beautiful Day in the Neighborhood ~ Neighborly Words of Wisdom from Mister Rogers" as a gift from Jen Shelton, one of amazing Educational Assistants. The book has been sitting precariously on the corner of my home office desk; a room where I'm now spending the majority of my time.  Every so often (usually when I'm avoiding a task or two) I find myself thumbing through the pages and reading a quote or short story, which then inevitably leads to a return to my task with a renewed sense of purpose and a smile.   Today I happened upon the chapter entitled, Communicating and this quote caught my eye, "In times of stress, the best thing we can do for our children (and for each other) is to listen with our ears and our hearts and to be assured that our questions are just as important as our answers."
As we head into tomorrow's "virtual" staff meeting, I can't help but wonder how our staff is truly doing. I know that many of them of trying their best to navigate the role of both parent and educator simultaneously.  I know that they have such incredibly high expectations for themselves as educators and they want to be doing the very job possible during impossible circumstances.  I know that our staff is truly a "family" and just like we're missing our extended families, we are all missing our school family. I know that they hear it in the voices/words of their students how much they are missed and how heartbreaking that is.
I would give anything to be in the same room, to see their faces, to provide hugs, to share words of support and to share some laughs.  But that is not going to happen tomorrow.  So, in the absence of that, I need to truly listen, with both my ears and my heart as we do our best to share, to support each other and to continue to ask questions that will hopefully bring a sense of calm verses a sense of stress.
We will do our best to "make the most of this beautiful day… since we're together", even if it is only "virtually"
Come write with me….