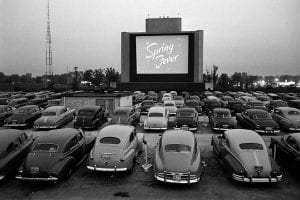 As I was scrolling through a number of online articles, today, I came across this one. "Drive-ins have become a safe zone for moviegoers, owners hope they return after pandemic  and it occurred to me that for the most part, there has been a such a focus on what has been lost as a result of this global pandemic, that I truly appreciated this story, with its lovely positive spin on a past time that just may be making a comeback.  In doing some research, I learned that the first drive-in theatre in Canada opened on July 10 1946 in Stoney Creek Ontario and here we are nearly 74 years later, looking to return to that "physically-distancing" safe past time.  I'm sure that the movie industry would love nothing more than to have venues to safely showcase the significant number of pictures whose release dates have already been adjusted a number of times.
Growing up I don't recall going to the Drive-in too often, but I do fondly remember the location of the Twilight Theatre on Hyde Park Road.  Coming home from late nights at Grand Bend in the summer, that theatre, packed with vehicles and spotlights that lit up the night sky, was the indication that we were close to home. I remember turning my head, to see if I could catch a glimpse of what was playing, if only for a few seconds.
As I transitioned into my late teens, the invention of the VCR and the accompanying knowledge that you could rent a machine and multiple videos for the weekend became our movie viewing option.  The idea of enjoying a movie from the comfort of your own home was such a new phenomenon that it seemed to strongly outweigh the alternative of sitting in your car or going to the movies. Although the experience did involve learning how to connect lots of cables and cords and being satisfied with movies that had already had their run in the theatres.
As rented VCRs, gave way to affordable VCRs, home viewing became even more popular and Drive-Ins started to close.  The Twilight is now a Lowe's Hardware store and the outer limits of London have creeped much further north.
A couple of years ago, Doug Peterson added Drive-In Theatres to his "Whatever Happened To" series.  It was a wonderfully written tribute to the Drive–Ins of the past.  At the time, I had never envisioned that we'd be on the verge of a resurgence of this form of entertainment and yet, here we are!
As we begin to imagine the next phases of re-entry what else may be making a comeback?
Come write with me…