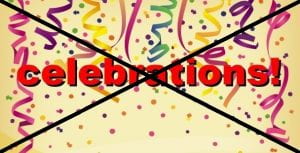 I'm beginning to wonder if one of the 2020 phrases that will make its way into the history books (or online Internet searches or whatever platform our future holds) will be "COVID Celebrations".  Since mid-March when we started physical distancing and self-isolation, we have navigated our way through celebrations such as Easter, my dad's birthday and today, Mother's Day. Historically we've recognized those celebrations with large family gatherings, meal preparations, purchasing of gifts and at times successfully managing equal time between our nuclear family and our extended family and at other times, not so successfully.
This year, we've had to become creative while ensuring the safety of our loved ones.  Easter started with a special delivery to our front porch from our daughter and son-in-law and ended with a quiet dinner with our 2 sons and an evening of JackBox online games.  There was a sense of calm and appreciation.
My dad's birthday included a porch visit from my eldest son and myself as we serenaded him with "Happy Birthday" loud enough for the neighbours to hear and a socially acceptable distance delivery of a homemade chocolate cake.  We made the most of our time together and I have no doubt that he appreciated it.
Today was Mother's Day and once again the restrictions on coming together in large groups impacted our celebrations.  And yet, I wouldn't have changed a thing.  Yesterday, my daughter picked me up for an undisclosed destination.  We traveled to Clovermead and took part in the Mother's Day Drive Thru Special.  We had never visited there when our kids were young, so the tour created the space for dialogue about the past, special memories and future plans for eventual grandkids…smile.   Dedicated, uninterrupted time with my daughter is priceless. I loved it.
This morning, breakfast was prepared and enjoyed with my husband and our youngest son.   Again, time for conversation about fishing, spring and eventual trips to the cottage was a wonderful start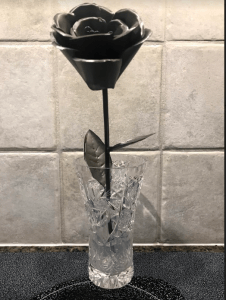 to the day. Without the option of shopping, my husband took the time to create this "Suzie can never kill" flower!
As the day continued, I ventured over to my parent's place for a physically safe visit. Within minutes of my arrival my brother showed up, so the four of us spent the next 2 hours deep in conversation, debate and laughter ~ lots of laughter.   As we both have busy families of our own, it is rare to have these special "nuclear" family moments.  I can't even recall the last time it was just the four of us. As we were leaving my mom commented that it was the best Mother's Day in years!  Shhhh… we won't tell the rest of our own family members LOL
The final gift of today was a visit from our oldest son, who knows my weakness for deep fried pickles.  So along with a beautiful orchid and a card that made me so proud, we indulged in a fried pickle feast and good conversation.
Although we couldn't all be together today at the same time, the moments that I spent with each special person who makes my life as a mom more meaningful than any other accomplishment, were precious and memorable.
Maybe there's something to these COVID Celebrations that we can capture and recreate, even when restrictions are lifted.
How are you navigating Celebrations through COVID-19?
Come Write with me…