When it comes to giving gifts, I often feel that my choice of gifts never adequately shows my love and appreciation for the recipients.  I am always in awe of those individuals who find just the right gift for just the right occasion.  Recently, I was thrilled to be the recipient of one of those creative and meaningful gifts, just prior to the birth of our granddaughter.  A good friend, Denise Taylor Edwards, who knows my passion for writing, gifted me with a journal. As I unwrapped the gift, I recalled George Couros visiting Thames Valley years ago and addressing our administrators and senior team members.  George and his wife had just welcomed their first daughter.  George lovingly shared that he had already created an email account for his daughter and was starting to populate it with letters and artefacts.  At that time, I wished I had started something similar for my own children when they were young.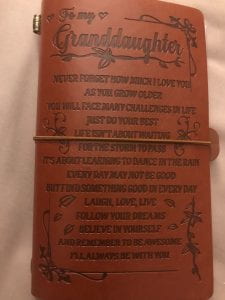 Fast forward to March 28 ~ the day that I opened this beautiful leather-bound journal for the first time and crafted the first, of what I hope will be many, many entries.  I documented the details of Ellie's journey into this world and our hopes for her. To date, I have written 12 entries (one for each of the times that I've been blessed to spend time with her).
Although the last thing I want to do is to wish away any of her time growing up, I can't help but wonder at what point in her life I'll be able to "gift" her this journal.
Do you keep a journal for yourself or for a loved one?
Come write with me….