Day 15
We've all been there I'm sure… You receive an invitation to an event, gladly accept and really have no idea what to expect and by the end of the night, you're thanking your lucky stars that you attended.  Friday night was one of the those nights as I attended the  JARAGUA ARTISAN BENEFIT ~ Pupusas on the Patio.
In knowing about the hostess' passion for this El Salvador based organization, as a result of her daughter's connection to CIS ~ The Centro de Intercambio y Solidaridad, I was excited and had anticipated learning about the country and more specifically how to support the Artisan project.
Last summer, our hostess, Annette Gilbert eloquently shared her reflections on her visit to El Salvador through various posts on her "Take a risk, Make a Move" blog.  Friday night it became evident that her talent for passionately weaving a story and captivating an audience have been passed on to her daughter, Hannah, who shared her respect, admiration and obvious love for Evelyn, the Center's one woman dynamo (soccer coach, musical conductor and resident artist are but a few of her talents).
As informative as the presentation and delicious as the El Salvadorian themed dinner were, it was the conversations with the other guests that inspired this post.
Except for Annette's husband, her incredibly musically talented nephew and one other gentleman, the patio and later the interior of the house were filled with intelligent, interesting and determined women.
My discussions shifted from the latest "must reads", to a walk down TV's memory lane to a discussion about a shared passion for the Dominican Republic (and work with teachers and students) to career changes to an intriguing conversation which started with a shared lament for living with young adult sons who could give "Pig Pen" a run for his money and transitioned into a deep discussion about how we, as women, treat each other.  I had never had the pleasure of chatting with this person before, but I was amazed at our similar take on the world of how our gender differs from our male counterparts in terms of supporting and encouraging greatness in each other. As we recounted similar experiences and our shared vision of what it could look like if we truly and whole-heartedly supported each other, I was reminded, once again, how truly blessed I am to work with brilliant, passionate, dedicated and incredibly hard-working women who understand the power in supporting each other.
Desiree's goal of purposefully and passionately promoting the women in her life is one that I hope that more of us strive to meet.
Hannah provided us with an incredible example of one woman who is making a difference.  What would it look like it we made a difference in the lives of the women that we know by celebrating their successes ~ big and small?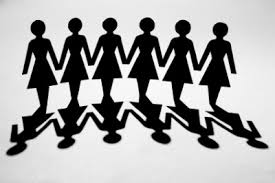 How do you celebrate the women in your life?
Come write with me…..