Day 18
I think my muse took the day off. It is quickly approaching midnight and my page is filled with 5 potential blog ideas, but none of them will be adorned with visuals, given creative titles or experience the satisfaction of the "publish" button ~ at least not in their current state.   I'm not sure why the 'ol creative juices aren't flowing, as today was a great day, filled with completing a monumental task of Instructional Coach deployment with a creative, collaborative colleague. Followed by a rich discussion about a new and unique way to ensure even distribution of secondary ELLs.
The gift of a "must read" book by Kate DiCamillo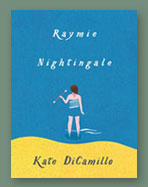 and ending with a conversation about how to assist a school team with selecting measurable and meaningful goals.  I love days like this ~ embroiled in learning, thinking dialogues with several members of our team. Each opportunity for discussion pushes my thinking.  But for some reason, the common thread, the moral of the story or the cute connecting themes are not rising to the surface.
But in following the advice that I've been retweeting in articles about daily blogging ~ write, write every day and hit the "publish" button.
May my muse return tomorrow…..