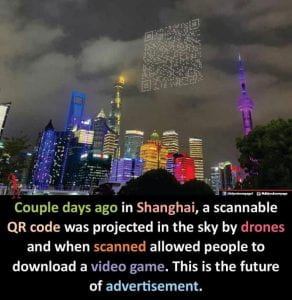 Today someone posted this picture from Shanghai. It's a scannable QR code that will allow users to download a video game.  Talk about taking information to the airwaves in a whole new way.   Think about the potential of this technology for advertisements.  We've already witnessed the evolution of the billboards. Many of today's billboards have already advanced to digital displays that can be updated remotely.  It is rare to see scaffolding and a team of workers affixing huge sheets of papers, only to have them come unaffixed and start to dangle in the wind.  Passersby would have to use their inference skills to figure out what products were being advertised.  With QR technology, companies can quickly change the advertisement from their iPhones on a regular basis, with the hopes of enticing potential customers.
From smoke signals (one of the oldest forms of visual long-distance communication) to the Bat Signal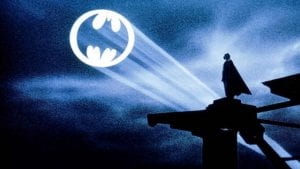 (which would allow the Caped Crusader know that he was needed it Gotham City) and now to this form of visual communication, to say, "The sky's the limit" continues to hold true ~ probably even more so!!
Would love to know your thoughts about this latest and greatest technological advancement.
Come write with me….