For anyone who we've been pleased to meet during our time at Sir Arthur Currie while applying for a position, they can speak to our renowned first question experience.  Back in the day, when we were conducting face to face interviews, potential candidates would enter our front welcome area to find a table filled with over 50 photos.  Over the years the collection has evolved from our original set of stock photos from Haiku Deck to a set that now includes some of my own photography from special places and unique natural creations. Along with the photos they would fit a prompt which would become their introduction and first question.  The prompts may be related to teamwork and collaboration. They may focus on mental well being and diversity. Or they may provide the candidate with an opportunity to share examples of their flexibility and resilience as they connect to the photo.
In our current reality of virtual interviews, we didn't want to lose this component of the interview process as we received wonderful insights about the candidate through their explanation and candidates shared that they enjoyed this experience as their first question.  So, we shifted to an online version, using Padlet.   Just prior to the interview, the candidates are provided with a link and a prompt. Although initially we worried about losing the impact of this strategy, we were thrilled to see that it translated just as effectively in the virtual world.
We continue to be amazed and impressed with the deep connections and insights that candidates bring to these photos.  Two candidates can select the same photo and bring incredibility rich and very different experiences and connections to that photo.
Years later, I can recall the exact photo that certain individuals selected. As a staff, there have been occasions when we've pulled out the photos and had some fun trying to remember which one, they selected.  Many of our current crew members can recall, exactly, which photo they selected ~ even if it was 4 years ago.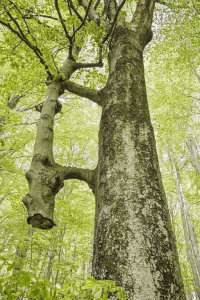 This past week, I was thrilled to find 2 more images, which may just make it to our set of photos.  I'm so intrigued by this visual of the tree.  Even without a traditional root system, it is growing and thriving thanks to the support of the steadfast branches of the mature tree.  My head is spinning with analogies of the power of having someone there to support you, even if you feel that your legs have been kicked out from underneath you.   The second visual of the row of book houses falls right into my wheelhouse about the power of books to take you places that you might never expect to go.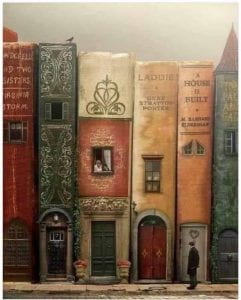 When I posted it on social media this morning, a friend commented with "windows, doors and mirrors to the human experience".
So true.
I'm excited to see if any of our future candidates select either of these photos as their entry question.
If you were applying for a new position, would you enjoy the opportunity to introduce yourself with a photo?
Come write with me…