It has been 3 years since we have come together for a face-to-face planning meeting for our summer Teacher Mentors Abroad conference. Although we've stayed connected via Zoom throughout the pandemic and continued to explore ways to support our Dominican mentors and expand our work, there is absolutely nothing in this world that could have compared to the long awaited hugs that we shared today, the laughter as we reconnected, the tears of joy and the personal narratives about our kids, grandkids, partners and careers paths. We reminisced about past trips ~ plungers, seized Tribes books, close quarters, roosters, treacherous roads and so much more. This group of remarkable women, most of whom I have known for 7 years continue to inspire and push me to do better, to learn more about mentorship, to appreciate the importance of identity, to be not only a more informed educator, but to be a better global citizen. I truly believe that I am a better person when surrounded with their wisdom, their unconditional acceptance, and a shared vision of the impact that professional learning can have within society.
As per most post-Covid initiatives, our work this summer is going to shift, owing to the fact that life in the DR has changed ~ their school year has been extended and there has been a change in the Government/Ministry. As an organization we are going to return to the heart of our work which is collaborating directly with our Dominican mentors. Over the past few years (pre-Covid) our work was focused on providing a week-long conference, which grew to 300+ DR educators. Our group of DR mentors played a supportive role in the conferences, but we had yet to reach our ultimate goal of having them take the lead.
This summer, all of that changes! We are taking a much smaller team and we will work with our DR mentors in both sites (Santiago and Santo Domingo) for 3 days. The focus will be primarily listening and learning about how they navigated Covid and where they feel the necessary work needs to be. Secondly, we will work together to support them as they develop a day long conference for peers in an outreach location. Our Santiago team will be traveling to La Vega. We know that in order for there to be expansion and true implementation, it is our DR mentors who need to ultimately take the lead with their peers. We are hopeful that facilitating a conference in another district will assist them in gaining the confidence to take the lead within their own district.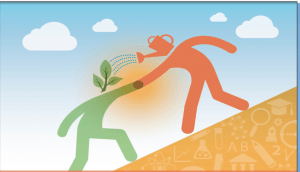 As we were working through this plan, I could not help but recall years ago, when our staff at WS Fox started on a similar journey. We were extremely fortunate to have Smartboards in each classroom. In order to create the conditions for our staff to gain confidence in the great work that they were doing, we offered to host a day of professional learning for teacher candidates. Many of our staff who may have been reluctant to share with their peers, were more than willing to share with teacher candidates. It was so amazing to see their confidence blossom. That summer, many of them then stepped up and presented at the Summer Learning Conference. Years later, a considerable number of those original staff members went on to Coordinator and then Leadership positions.
Over the past 2 years, as we have connected with our DR mentors through zoom, we have been intentional in having their voice and experiences reflected in our work ~ as we evolved our strategic plan and as we developed an updated handbook for our Canadian mentors. Today we watched one of the videos from a cherished DR mentor, Leonisia. It was so heartwarming as she shared that "we (TMA) give life and colour" to the strategies that we share. If I were to share what this organization means to me, I could not craft a better description. TMA gives me life and colour!