Within a school community, there are a number of unsung heroes. Those individuals who go about their day-to-day tasks, which on the surface seem somehow at arm's length from student achievement/well-being. One of those groups of unsung heroes are our custodial team. Over the past couple of years, their commitment to heightened health and safety protocols has given staff, students, and our parent community a sense of security. Throughout the day, whenever needed they pleasantly and professionally answer the call on the walkie-talkie and make their way to the crisis of the moment. Whether it is a milk spill, a required toilet paper refill, a clean up after a student has been ill or the ever unpleasant clean up in a washroom.
Late last week, following one of those washroom calls, our evening charge custodian, Brian, escorted one of our students to the main office. He shared with one of our secretaries that the student was unable to return to class and needed to make a call home. It quickly became evident the reason for the call home was associated with an accident in the washroom. Once the student was safely on his way home with a parent, Brian shared the rest of the story.
As he entered the washroom for the clean-up, he found  this student trying desperately to clean the mess from his pants. Brian could tell that he was devastated and embarrassed. Within minutes, it was Brian to the rescue ~ knowing that the student could not return to class with his reputation intact and that he was going to be too embarrassed to share with the office staff what had happened. So, Brian went into the class, retrieved the student's backpack, and accompanied him to the office ~ thus saving him, not one, but two embarrassing conversations.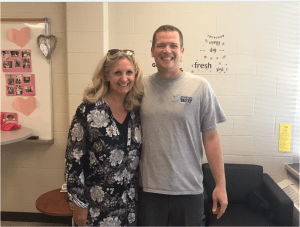 Later that evening, as the office became quiet, we had a beautiful conversation about how Brian was this student's guardian angel. The one person who was there, when this student most needed a kind, caring adult. Brian recalled when he was in my grade five class (yes, our evening charge custodian is a former student of mine, and I could not be more thrilled that our paths have crossed again) a student had an accident in class. We talked about the long-lasting impact of such embarrassment and how his actions today hopefully sheltered this student from the same long-term impact.
Here's to those unsung heroes who make a difference in the lives of students, when they least think they may need a guardian angel.
Have you ever needed or been a guardian angel for a student?  Would love to hear about it.
Come write with me….