I am not sure if others can relate, but I tend to look at the world differently on weekends than I do during the constant busyness of the weekdays. If I must run errands after a long day at work, I find my patience is rarely at its maximum capacity ~ some might say, I am downright impatient.  I look for the shortest line in the grocery store or zip through the self check-out to expediate my shopping spree. I take the most direct route home, pull into the driveway, and then finally relax.
Today, which brings the gift of being day 1 of a 3-day weekend, I found myself leisurely venturing to the south end of the city to pick up a couple of Canadian flags for the school. The cost to send them via Fed-Ex almost matched the cost of the flags themselves (and contrary to popular belief school boards, like any other organization, do their best to be fiscally responsible) so, I decided to pick them up myself and save the cost of delivery. If the need for the flags had been immediate, I would have asked my son, who lives in that end of the city to pick them up ~ but alas, I embraced today's drive.

I arrived at about 9:50 am, forgetting that the Flag Shop did not open until 10:00 am. It was a sunny morning, so 10 minutes of waiting in the sunshine was not a bother at all. At 9:55 am, the store owner arrived and unlocked the front door ~ following directly behind him was another early morning customer. My initial intent was to spend merely minutes in the story by showing the purchase order number, picking up the flags and continuing on my way. But the inquisitive woman who entered first peppered the store owner with a series of questions. Although not eavesdropping, within a small store, it is hard to not hear the intense conversation. The store owner was so patient, so kind and so knowledgeable. As I waited, viewing the various flags and flag related products, I found myself going back to a childhood memory of when I spent time at my aunt and uncle's cottage in Grand Bend. Each morning, like clockwork, my Uncle Bill would raise the Canadian flag up the large flagpole that was on the edge of their property, overlooking Lake Huron. I remember loving those mornings when I was the one selected to hold the flag as he connected the grommets and then watch in awe as it billowed in the wind ~ flying proudly with each tug of the ropes. At sunset, each night, the routine was reversed. He taught me how to fold it, so that it never touched the ground. I took those teachings into my youth as a Brownie and Girl Guide as we learned about the importance of acknowledging and recognizing the significant of flags.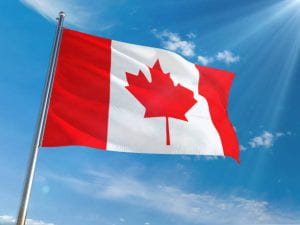 As the owner finished his conversation with the first customer, I found myself smiling as he said, "One day I'm going to get a chair and place it on that side of the cash register."  He then proceeded to say, "Are you sitting down? The cost is $299". She smiled and finished her purchase.
With the same thoughtful customer service that he had provided her, he turned to me and said, "Now, how can I help make your day brighter? What a wonderful entry point into a conversation. This passionate store owner could teach a course in Customer Service 101.  I wonder who we can rephrase our morning greetings in a school setting.
As we proceeded with our interaction, he methodically found the order and produced two brand new Canadian flags. As I was waiting, I noticed Friendship pins which intertwine the Canadian flag with the flag of another country. I could not help but wonder if that would make a wonderful gift for our Dominican Mentors when we head down there in July. So, I ordered 25.
In my closing remarks, I mentioned that one of these new flags will be raised first thing on Tuesday morning as our current one (as a result of the constant high winds at our school) was tattered. Without missing a beat, the owner, shared that for $12.00 he could repair the frayed one. There was another exchange about the school board and fiscal responsibility and we both had a good laugh. As I gathered my package and started to make my way towards the door, he declared, "A stitch in time…." to which I replied, "Will save you a dime."  I had heard the phrase before but  could not actually remember the exact wording. It was not until I got home and researched it (remember what I shared at the beginning of the month about my writing taking me down rabbit holes) that I was reminded that the actual phrase is, "A stitch in time saves you nine" which refers to getting tasks completed in a timely manner.
Today was a great reminder that getting tasks completed in a timely manner, sometimes means you might miss out on those extra "nine".  I rarely use this platform for promotion, but today is an exception.  I highly recommend The Flag Shop on Exeter ~ not only for the products but for the experience of spending time with owner.
When have you experienced exceptional customer service?
Come write with me…