Exactly one week ago, I was anxiously awaiting the post in-camera Board meeting email from our Superintendent, wherein she was going to share the name of the incoming Principal.  During the weeks leading up to the announcement of administrative assignments for the upcoming school year (not unlike every year at this time) there was lots of speculation and conversation about which of our colleagues would be embracing new assignments and which of our colleagues would be embracing retirement.  I've often remarked how interesting it would be to be a "fly on the wall" as those conversations occur.  I can't help but hear the soundtrack from Hamilton ~ "The Room Where It Happened ~ No one really knows how the game is played. The art of the trade"
I have no doubt that the decisions are difficult, and the conversations are endless as our Senior Team does their very best to create the conditions for positive succession planning in each of our schools.  In my mind it's a huge chess board where one move may impact many other moves.
With all chess moves solidified and shared with the Board of Trustees, shortly after 6pm, the email arrived and suddenly weeks of anticipation dissolved.  We learned that Caroline Woodburn would be the incoming Principal and suddenly reality sank in ~ I had to wrap my head around passing the torch.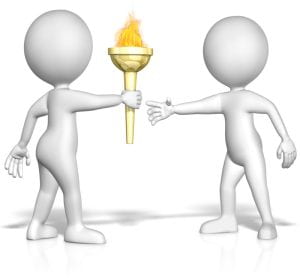 In my career, I've had this opportunity two other times, but this time feels very different.  This torch is one that I did not inherit from another administrator. This torch is one that our school community created, ignited, and continues to use to light our way as we learn together, laugh together, and love each other.  We have been very intentional in many of our decisions about how to cultivate a unique school culture.  We have had a guiding light that has allowed us to stay the course ~ regardless of any obstacles.
Torches not only light the way, but they also have the ability to set something on fire and for those of you who are Survivor fans, you'll be familiar with the phrase, "Light your torches because in this game, fire represents life".
On many a day at Sir Arthur Currie, at any given time, both our staff and students are figuratively "on fire" with their passion for learning.  You sense the excitement throughout the building and like the explosive nature of fire, it becomes a chain reaction.
As I ponder the next several weeks, it will be the image, symbolism and importance of our Sir Arthur Currie torch that will light the conversations that I have with Caroline.
Would love to hear your stories about either passing the torch or being on the receiving end of a special torch.
Come write with me….