Each day in the life of a school principal is filled with a variety of experiences.  Some seem monumental and some seem minuscule. There are days where I get to roam from class to class, encouraging students to do their best and watching in awe as educators deliver engaging lessons.  There are days when the barrage of emails, paperwork and deadlines keep me close to the office with an occasional opportunity to come out for a quick tour.  There are days when I spend time with families discussing support plans, registration procedures and how to help their child be more successful at school. There are days when I get to spend time with colleagues discussing School Improvement, Operational Plans and Board initiatives. There are days when one student may require the bulk of my time.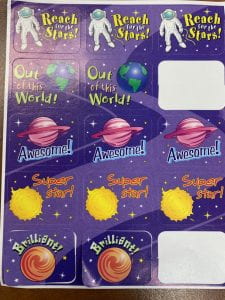 Today was one of those days that I was out of the office far more than I was in it.  But when I did pop back there was a white board with a post it note (scribed by the teacher) attached.  It was from one of our students that I spend a great deal of time supporting.  He struggles with significantly big emotions and although he is near the end of grade 1, has yet to master letter sounds as a result of his level of dysregulation.  I was THRILLED with the amount of sound work that he had completed and immediately popped down to his classroom to share my pride in him.  I offered him a sticker and he chose the one that said BRILLIANT.  Without missing a beat, he said, "Brilliant is just like Mrs. Bruyns ~ they start with the same sound".   I reached out my arms as he fell into them, knowing that I was bursting with such joy.  I was so incredibly proud of him.
Sometimes those minuscule moments are monumental.  Embrace each one of them!
Would love to hear about your monumental/minuscule moments.
Come write with me….