As I shared a few posts ago, life at Sir Arthur Currie on May 4th was full throttle busy ~ just how we like it. There was a steady stream of community members joining us for our 9:30 am performance, our 11:45 am performance and then again for our 6:00 pm evening performance. Students were excited about performing, excited about wearing their new T-shirts and scurrying from the music portable to the gym with instruments, music stands and sheet music in hand. We also had a number of nervous and excited staff members who were ready for the debut of the Choir-oytes. And as it the case with anything out of the ordinary, our custodial team was on high alert that day as chairs needed to be set up and then shifted. Programs re-located and a barrage of other requests. Oh, and of course it was Hot Lunch Day as well. However, within the midst of the hustle and bustle one of our most cherished custodial team members was absent. He was absent because he had a prior engagement. As one of this year's recipients for the TVDSB Award of Distinction, Brian Wilson (our evening Charge, our Daytime Charge, and all-around amazing Crew Member) joined a few select other TVDSB employees who were celebrated for their accomplishments.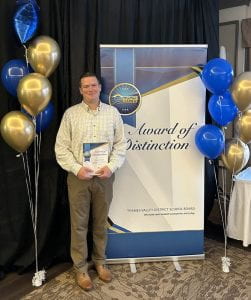 As some of you may recall, last year around this time, one of my May posts highlighted how Brian came to the rescue of a student and through care and compassion ensured that this student's dignity was maintained in what could have been a very embarrassing moment. In the months following that act of kindness more and more staff members commented on how Brian had gone above and beyond to "save the day" or to surprise and entertain.    This past November, when we thought that the props to the Remembrance Day assembly had gone missing, it was Brian to the rescue as he literally dove into the garbage dumpster to retrieve them.  This past December as preparations were occurring for our Winter Wonderland celebration, a chance conversation with Michelle Rees gave birth to the idea of Brian surprising the audience, with a visit from the custodial (mop and bucket) in the middle of the production leading to a rendition of Fur Elise on the piano. And of course, the crowd erupted with laughter, followed by cheers. Both our staff and students adore Brian. He is quick to support in whatever way needed. He is delightful when dealing with students, who just need another caring adult in their life.
Although we loved that Brian was receiving this well-deserved recognition, we were saddened that the ceremony coincided with our Pop of Spring concert. The students were anticipating his contribution to this spring's show 😊
A number of us wanted to be at the ceremony as his name was called and they read excerpts from his nomination package, but thankfully his mom, Toni Wilson (also a recipient of this prestigious award) took lots of photos for us to enjoy.
Going forward, I cannot help but imagine that there will never be another May 4th like the one that I just experienced.
Following a quick Google search for a pithy ending to this 4-part post, I landed on this:
May the fourth be with you: 7 life lessons from Star Wars
Be open to new possibilities (like singing in a staff choir)
Hope springs eternal
Loyalty matters most (Brian's loyalty to our Crew made it easy to craft his nomination package)
Just be yourself (it's OK to cry when children sing meaningful songs)
It's never too late to change (or to revisit playing the clarinet after 40 years)
Focus creates a sense of perspective (blogging creates the conditions to examine all kinds of perspectives)
Different traits can make the best bedfellows (our Currie Chorus is composed of students with varying narratives and yet together they unite as a harmonized masterpiece)