They are few things in this world that sound more angelic than a well rehearsed, fine tuned and polished children's choir. Add a dash of memorable and inspiring lyrics and you're bound to reach both the hearts and the minds of the audience ~ or in this case 3 different audiences.
In addition to the 4 instrumental band selections, 2 staff choir songs and an opportunity for students to showcase solo performances (piano, drums, and guitar), Michelle Rees inspired close to 100 Junior/Intermediate students to perform during our Pop of Spring concert.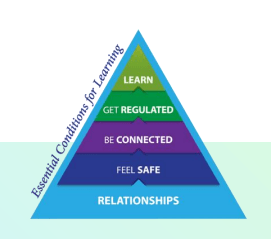 This year, as a school board and as a school community we have focused on the Essential Conditions for Learning. As I listened to the song selections and became entranced with the performances, it struck me that the intentional selection of songs, the building of a community of musicians along with the expectations that students could learn how to harmonize as well as memorize the words were embodied in each layer of the triangle.
In looking at the faces of the choir members, each of them has a narrative as a member of our school community.  Some of them have struggled with regulation on the school yard ~ and yet if you didn't know them you couldn't identify them in the choir.  Some of the them have struggled with self image and anxiety ~ and yet you couldn't identify them in the choir.  Some of them love to shine in all aspects of school life ~ and yet you couldn't identify them in the choir because everyone was shining throughout each selection.
What Michelle was able to create, through her relationships with each choir member, through establishing a safe place for practicing, through song lyrics which our students could enjoy, embrace and connect with and through a sense of laughter, joy and calm wherein everyone was always regulated was a place where students thrived and learned.  They learned how to harmonize, how to read and memorize music and how to perform ~ for themselves, for each other, for our younger students, for their peers (which we know can be intimidating at times) and finally for family and friends.
Over the years, I've enjoyed many a concert ~ both as an educator as well as a parent of 3 children, who for the beginning of their elementary school years had the amazing Kim Eyre as their music teacher.  As a school principal, you seem to always wear a few hats during performances.  You want to ensure that your music teacher has everything they need for a positive performance, you're watching the audience and in conjunction with the staff, you're ready to be on the move in a moment's notice if someone in the audience needs support and you're watching the performers.
As educators/parents/grandparents we all know those goosebumps moments, when the lights in the gym are dimmed, the conductor's hands are raised, and the voices of children fill the room.
As the first chord of the piano (performed passionately and expertly by our own Alicia Usher) was played, I was prepared for the goosebumps moment, but what I was not prepared for was the stream of tears that accompanied one of the selections. As a huge fan of Country music, I was somewhat embarrassed that I did not recognize the Lady A song, "I Was Here".  Although the melody was lovely, it was the lyrics that not only were a strong, inspiring message for our students; they struck a personal chord. As I embrace the final two months of my time at Sir Arthur Currie I am wondering if I have done something that matters….
"Maybe I'll write like Twain wrote
Maybe I'll paint like Van Gough
Cure the common cold
I don't know but I'm ready to start 'cause I know in my heart
I wanna do something that matters
Say something different
Something that sets the whole world on it's ear
I wanna do somethin' better, with the time I've been given
And I wanna try to touch a few hearts in this life
And leave nothin' less that something that says I was here
I will prove you wrong
If you think I'm all talk, your in for a shock
'Cause this streams too strong, and before too long
Maybe I'll compose symphonies
Maybe I'll fight for world peace
'Cause I know it's my destiny to leave more that a trace of myself in this place"
Give yourself a smile and take a moment to enjoy our Currie Chorus's version of this song.
https://drive.google.com/file/d/18tXO08g1NxT58RlGMQ-Jz1QE3V9BfrCh/view?usp=share_link
Are there songs that tug at your heart strings?
Come write with me…