You know when you have a day that is just so jam-packed with activities that you know that it's going to make it to the memory box?  Well today (and the events leading up today) has been one of those days.
The lessons learned, the laughs, the tears and the appreciation are far too many for one post.  So, in keeping with the Star Wars theme which will come into focus in future posts, this will be a four-part series.
The Choir-yotes
Who can take a group of educators, some of whom have never sang in public before and transform them into an amazing three-part harmonized, beautifully sounding choir?  The one and only Michelle Rees certainly can!    As we were preparing for our Pop of Spring Music concert, Michelle posted a message on our conference site wondering if any staff would be interested in joining a choir.  I love any idea that brings staff together!  So, I completed the Google Form, completely guessing at my range.  I knew that I wasn't a soprano, nor a bass. So, like I do when I'm unsure, I selected the middle range (alto).  As soon as the idea of joining a choir became a reality, I had an immediate flashback to Grade 8 at Byron Southwood.  In order to join the choir, we needed to line up and sing a note, while our principal, Mr. Dickson walked past us.  In no uncertain terms he made it clear that I was not choir-worthy.  With my crushed ego, I embraced the notion that if I couldn't sing, at least I could learn to play an instrument and fortunately, Mary Jane McIntyre welcomed me with open arms and my love of band, which lasted 7 years, began.
Fast forward 45 years and there I was sitting in the music portable with my white folder, surrounded by colleagues whom I adore, a music teacher that I didn't want to disappoint and an ego that wasn't ready to be shattered.  A plan needed to be hatched ~  I decided that I would  simply mouth the words (with expression, of course) and smile.
However, it quickly became crystal clear that if ever there was a time to "bless and release all fear" it was going to be in this space.  Michelle masterfully created such comfort in all of us, through her song selection, through the posting of the practice tracks and her weekly encouragement.   Week by week our voices started to harmonize and we learned when to emphasize words and when to show crescendo.
There was a time early in the process, as we were so focused on learning the lyrics and following the music (remember not all of us knew how to read music), when someone remarked, "This is how our kids feel"!    It was so true ~ the lines, the bars, the CODA, the crescendo, the repeat signs, etc.  were a different language for anyone who didn't read music.
I live for those golden moments.  As a principal, we know the power of creating the conditions for our educators to be in the learning lane and what an amazing learning lane this was ~ but the lane was about to become a freeway the closer we got to performance day as Michelle challenged us to stand and try it without our books.  The scaffolding was being removed and it was time for us to fly.
The feeling of accomplishment was undeniable. I think we truly amazed ourselves in how well we sounded ~ and we laughed 😊
Fast forward to today.   We had done our best to keep our performance as a secret.  The only students who knew about it were our MCs.   We were all sitting in the audience, with our Choir-yotes T-shirts covered, until we were announced and made our way to the front.  The audience erupted and it was incredible!
Once the jitters faded and we were able to focus on Michelle and her conducting, we came together beautifully.
As educators, on those days when we doubt our ability to have students learn something new, we need to remember that anything is possible. And the best way to do that is to put ourselves in a position to learn something new.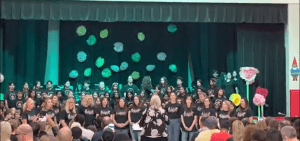 https://drive.google.com/file/d/1V4bZqYvfTe_7Mvwg5FIs2o8fszvUZYNb/view