Last Sunday, at church, Sheryl Scott delivered the message. In past posts I have shared Sheryl's exceptional vocal abilities and her talent for creating  scripts for weekly dramas that touch one's heart, soul and head. When describing Sheryl's voice to others, I often say that when I hear her singing it sounds like Christmas and when I hear her deliver a message there is no doubt that she is speaking directly to me. She has a down to earth, humourous and emotional way of sharing a story.
The message was the first in a series about Joy ~ and more specifically, the Joy of Adversity. One of the quotes which provided a pivotal point for the service, was taken from Shauna Niequist's Cold Tangerines ~ Celebrating the Extraordinary Nature of Everyday Life. It focused on the importance of not waiting for that magical BIG moment as  the magic is actually found in each and every moment. And while we are waiting for the perfect moment we have lost out on the magic that surrounds us each and every day.
In trying to find the exact quote, I landed on a page with several different quotes from the book (by the way I placed another Amazon order tonight… LOL)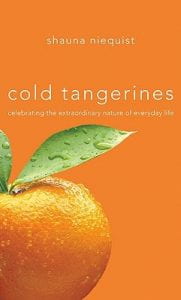 This one resonated more deeply as it connected directly to one of those magical moments.
"To all the secret writers, late-night painters, would-be singers, lapsed and scared artists of every stripe, dig out your paintbrush, or your flute, or your dancing shoes. Pull out your camera or your computer or your pottery wheel. Today, tonight, after the kids are in bed or when your homework is done, or instead of one more video game or magazine, create something, anything.
Pick up a needle and thread, and stitch together something particular and honest and beautiful, because we need it."
Today, not unlike most days at Sir Arthur Currie, a couple of educators collaborated on a moving, beautiful and one might even say spiritual project. They came and shared the process, the end product and their pride in their students accomplishments.
In a few weeks we are welcoming Margriet Ruurs, one of my favourite authors of books such as "Stepping Stones" and a Forest of Reading selection entitled, "The Elephant Keeper". In preparation for her visit, our LLC educator, Danielle Cadieux and one of our talented grade three teachers, Alicia Usher created an opportunity for our students to re-create the unique artistic platform of using small polished stones as their medium to create a picture.
The end result, which included some moving text was astounding. We often talk a lot about leveling the playing field in terms of multiple, attainable  entry points for students.. This memorable learning activity did just that… no longer was fine motor control and the ability to effectively hold a paintbrush or a  sketching pastel a prerequisite to creating something beautiful and heartwarming.
The students' imagination, connection to the text, and precision with pebble placement were the only factors  required to create a stunning end product.
I can't wait to see Margriet's reaction to these works of art.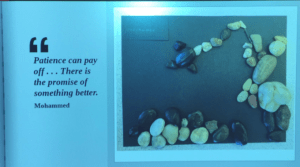 As the busyness of the week becomes a distant memory and we look towards a welcomed weekend, I challenge you to take up your needle and thread. What will you stitch together that will give you joy? (some writing, some spring garden preparation, the completion of a craft, some painting) I wonder if you will share it with your students and colleagues on Monday?
For me, I'm experiencing joy in my daily writing! As I stitch together reflections, events, hopes and disappointments, I'm working towards creating a quilt of May memories ~ ones that remind me to find the magic in the many moments of each day.
Come write with me….