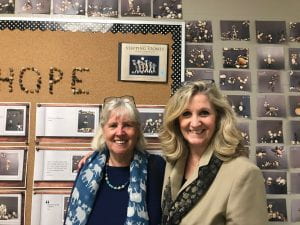 On January 27 2017, I wrote and published a post called, Stepping Stones. It detailed a time in my career, shortly after our school board had welcomed 450 Syrian refugee students, when I took the opportunity to visit schools and share this heartfelt journey of Rama and her family as they fled a war torn country and traveled to safety.  A day later, I was thrilled to see that the author, Margriet Ruurs had not only read the post, but she left a comment and then days later a Facebook friend request.
Fast forward two years and once again I was referencing Stepping Stones within a post ~ as our grade 7/8 students were taking part in the Global Read Aloud and exploring Refugee by Alan Gratz, I read them Stepping Stones to build their background knowledge on the war in Syria.   Margriet, once again reached out with a message of appreciation and inspiration.  At the same time, her book, The Elephant Keeper had been shortlisted for the Forest of Reading and we started to explore the possibility of her coming to London to meet our students at Sir Arthur Currie in conjunction with her trip to Toronto for the Forest Festivities.  With a little help from friends, we were able to make it work and today was the big day. I told our students that this was one of my "Rock star" days as I was going to get to meet someone whose work I have admired for some time.  I am not sure if they noticed the subtle connection between "rock" star and Stepping Stones, but they certainly could sense my excitement as I embraced Margriet like a long lost friend, instead of someone that I just met minutes before I introduced her.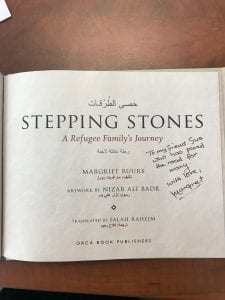 Our incredible Library Learning Commons educator, Danielle Cadieux, worked with our students and encouraged them to create their own inspirational Stepping Stone reflections and then she assembled them to produce an amazing display.  Needless to say Margriet was very impressed with the both the work and the words of our students, to the extent that she has asked us to send her the file, so that our creations can be included on her website. I watched with pride, as she complimented our students for their beautiful work.
There is something so inspirational about listening to an author share how a simple act/idea ultimately leads to a work of art that changes lives. In this case, it was the simple act of scrolling through Facebook and then taking the time to rewind and look again at the unique stone pictures of Nizar Ali Badr and being curious.  It was Margriet's curiosity and months of perseverance, which led to their partnership, and the ultimate creation of Stepping Stones.
I watched as our students intently listened to her story of how a conversation with a young man at an Elephant Orphanage uncovered his journey from being an elephant poacher to being an elephant caregiver.   It was so evident in listening to Margriet that one of her gifts is her curiosity in others ~ she definitely listens to learn and then uses what she learns to weave beautiful, inspirational stories.
As I continue to explore my own writing (in the simplistic form of this blog) I found myself landing on three take-aways from listening to Margriet today:
Always be curious
Take the time to truly listen to the stories of others
Perseverance pays off (for one of her books, it took 8 years of research)
What guides you as you write?
Come write with me….