For those readers who have faithfully been reading my "Post a day for the month of May", my apologies for the short break.  As you may have gathered from Day 17, I headed up to our cottage for the Victoria Day weekend and although the view of the water, the peaceful surroundings (except for the invasion of the black flies) and lots of physical labour combined with fresh air were conducive to prime writing inspiration,  the unreliability of the Internet created some frustration when it came time to publish the posts.
Here is my Day 18 post!
Life at the Lake.
I did not grow up "on the lake", nor did our family own a cottage when I was growing up. Hence, I do not have rich, detailed stories passed down from generation to generation about the ever-changing water levels, families of animals returning year after year and trees surviving extreme winters.
For one week each summer, we would venture to a fishing camp and rent a cottage. We still created wonderful memories with rich, detailed stories, which continue to be shared ~ but the natural surroundings never played a central role.
When our own children were young, we continued the tradition of renting a cottage for a week each summer.  We loved the outdoors and appreciated the beauty that Mother Nature gifted us with, but to be honest, we did not pay much attention to how best to sustain that beauty.
Five years ago, we finally took the leap and invested in our own cottage on the Trent Severn.  It is a modest, rustic cabin, with an accompanying bunkie for our now grown children and visitors.  Bru-Ski Bay (as we have renamed our lot on Lost Channel), nestled among tall strong pines, is surrounded by water on three sides. Each side offers a different entry experience. On one side, you can dive off the dock into deep water.  One side is located on the scenic point, with a gradual walk into the water (although, as a prime fishing spot ~ there is not a lot of swimming happening there). The third side is a haven for frogs and lily pads (marshy and moist).
As relatively new cottage owners, we have learned that the inaugural trip in the spring involves a great deal of stewardship for the natural resources, so that we will be able to enjoy their beauty year after year.  Trees damaged by the winter winds needed to be trimmed in order to not compromise other trees and plants, fallen branches needed to be removed from the water's edge and the hummingbird feeder needed to be refilled.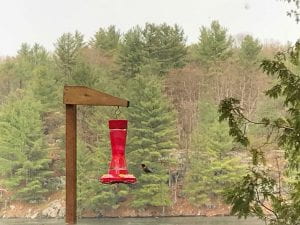 Stewardship of our Earth is one of those life skills that we can sometimes overlook in our quest to meet the multitude of curriculum expectations.  My heart sang with joy, when late last week, I looked out of my office window to see our grade one classes taking it upon themselves to weed and tidy our gardens.  It was so evident that they were taking pride in our school.   As a new school, we often remind our students to take care of their furniture and equipment ~ as we want it to last for years and years.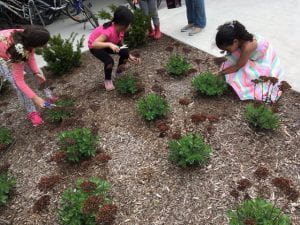 One does not have to be in a new school to feel that sense of pride and stewardship.   As you look towards the upcoming week, what can you do to demonstrate stewardship of resources (natural or other) in your school?
Come write with me…